Description:
※ Features:
◎ compact, reliable, low power consumption.
◎ do not need to install any starting device, you can smoothly pull-in operation, and starting torque.
◎ gear with high strength, wear good precision small modulus gear, low noise, high mechanical strength.
◎ in the irregularly or longer energized stall, the motor temperature is absolutely stable, and does not affect the mechanical strength and electrical properties of the motor.
◎ Reply small moment. Instantaneous power, the role of the tension spring device, and can easily reply and reply resistance.
※ Application:
This product is mainly applied to stall and take time off for an automatic response when a device. Such as various types of electric valve, central air-conditioning temperature valve actuators, control valves and other building duct automatic devices.
Main dimensions :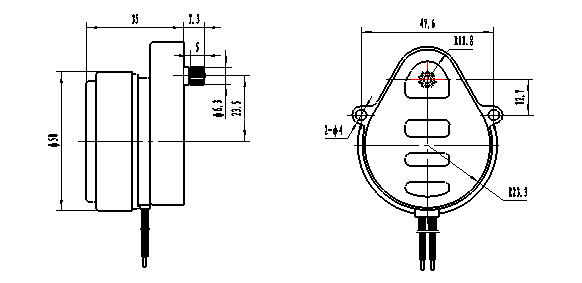 The main technical parameters:
Rated voltage: AC24V
Rated frequency: 60Hz
Input Power: 7.5W
Input Current: 0.30A
Insulation class: F
Noise: <40dB
Insulation Resistance: 500VDC> 100MΩ
Direction of rotation: clockwise or counter-clockwise (CW or CCW)

| | | | | |
| --- | --- | --- | --- | --- |
| Output speed (r/min) | 1 | 3 | 4 | 5 |
| Output torque(kfg.cm) | 4.5 | 1.8 | 1.5 | 1.2 |
Data listed in tabular frequency is 50Hz; 60Hz frequency is calculated as follows: Speed × 1.2 Torque /1.2
Speed, steering, style and power lines output shaft outlet location can be customized according to customer requirements.